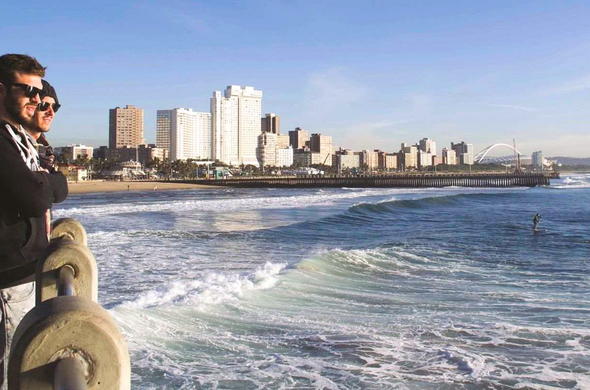 Picture year round sunny days, endless golden beaches, a great many rivers, streams and lagoons, coastal forest and sub tropical bush, now imagine 11 stunning golf courses, scuba diving, hiking and surfing whilst enjoying good food and busy little towns, this is the KwaZulu Natal South Coast.
Discover what many locals already knew, the KZN South Coast rocks! Friendly people and authentic living Zulu culture can be found on this near 200km (124 miles) stretch of coast, dotted with interesting little villages and towns and a variety of accommodation to suit everyone.
The water is warm and teeming with marine life where dolphins are seen often! There is no lack of exciting things to do on the KwaZulu Natal South Coast also known as the Hibiscus Coast - some of the finest fishing, spear fishing, abseiling, river rafting, whale watching and bird watching can be found here - high adventure on land and sea in the great outdoors.
History
The KwaZulu Natal South Coast was back in the mists of time, the very happy home of the San Bushmen; they lived, hunted and fished in what must have been blissful isolation. This region is criss-crossed by a least 100 rivers and streams, making it almost impossible to traverse on a large scale.
At any rate with the gradual migration of African tribes from Central Africa and the arrival of European settlers things were set to change for the San who were eventually edged out. Zulu clans established themselves and some adventurous farmers and hunters moved in, there was a lot going on in the making of Durban and continual clashes in the Northern part of KwaZulu Natal between Zulu kings and settlers.
The KZN South Coast with its difficult terrain remained undeveloped, investors were put off by the continuous rolling hills, dense coastal forest and often steep ravines of the more than 75 rivers and streams, as well as coastal lagoons - any large scale movement of ox-drawn wagons was a daunting and risky undertaking. Many attempts were also made to access the coast and its rivers from the sea to build harbours, various ship wrecks and beachings put paid to these attempts for decades.
Recorded history of the KZN South Coast is largely divided into before and after 1895 and the advent of the railway. It took 6 years of dogged determination to complete this venture between Durban and Port Shepstone, just a few hours by train changed everything!
Beaches
Having at least 50 beaches to choose from for swimming, fishing and surfing, make for a prime attraction on the KwaZulu Natal South Coast. Visitors can find a chain of stunning lagoons on the long stretch of magnificent beaches between Shelley Beach and Ramsgate, the rocky outcrops and warm waters of the Indian Ocean make for wonderful holiday locations.
The KZN South Coast has a number of beaches which have achieved Blue Flag status namely: Margate Beach, Lucien Beach (between Margate and Uvongo), Uvongo Beach, Hibberdene Beach, Ramsgate Beach, Marina Beach (between Southbroom and San Lameer)
Nature Reserves and Hiking
Umtamvuna Nature Reserve
The Umtamvuna Nature Reserve inland from Port Edward, has magnificent views of the deep Umtamvuna River Gorge, and wonderful walks along the coastline. Rare and endemic plant and tree species can be found, there are beautiful wild flower displays after the rains in spring. The endangered Cape Vultures can be observed on their nesting sites. There are 3 hiking and walking trails here.
Vernon Crookes Nature Reserve
Located just beyond Umzinto, not far from Pennington, this Reserve has coastal forest and open grasslands, at least 300 bird species have been found here and there is a wide variety of wildlife. Wildflowers can be seen in the spring. Guided walks are available by prior arrangement, with a minimum of 4 people and a maximum of 8.
Oribi Gorge
Inland from Port Shepstone, this beautiful Reserve has wonderful hiking trails and picnic spots; its also a photographers haven. Visitors can see wildlife, forests, ravines, sandstone cliffs, the Umzimkulwana River and rapids. There are 5 hiking and walking trails here and an array of adrenalin sports such as the highest abseiling challenge in the world, heart pumping white water rafting is possible from November to April.
Empisini Nature Reserve
This is a birdwatchers haven near Umkomaas There is a picnic site here and hectares of unspoilt coastal forest, and grasslands converted from old canefields.
Uvongo Nature Reserve
Between Uvongo and Manaba Beach, there is a lovely 2 hour circular walk. Visitors can see diverse trees, shrubs, ferns, coastal bird species and orchids. There are a number of other 1 hour walking trails in Uvongo itself on Uvongo Drive.
Dlangala
In the Umkomaas Valley, this is a wildlife sanctuary and reserve for injured and orphaned animals, visitors will find a lot of things to see and do here from high adventure like rafting and abseiling to game drives and walks. Dlangala offers a eco-tourism promotion service and one-stop advice centre.
Umkomaas Valley
Just 60 minutes drive from Durban; this is a wilderness area which is both malaria and crocodile free! Adventure enthusiasts will love this valley there is plenty to see and do like, rock climbing, tubing, white water rafting, fishing, game viewing including night drives, walking and 4 x 4 trails, also horse riding, canoeing and kayaking. This is a great conference destination.
Ngele Hiking Trail
Suitable for hiking and walking in the Weza State Forest between Harding and Kokstad, this is a 5 day trail, with each section less than 14km (9 miles). Horse riding trails are also found here.
Mpenjati-Mbizana Walking Trail
Various walks from the Mpenjati River and around and about, seeing great beaches, vegetation, rock formations and animal life, the longest walk is a relaxed 4 hour venture to the Mbizana River at Southbroom.
Scuba Diving and Snorkelling
The Ragged Tooth Shark is a big attraction, also a variety of other sharks, rays and tropical fish, deep caves, reefs, amphitheatres and spectacular plant life. There are many dive sites along the coast with dive operators offering a variety of adventures in the following areas:
Shelly Beach - Protea Banks
Margate
Umkomaas - Aliwal Shoal (shipwrecks)
Park Rynie
Scottburgh
Golfing
With the equivalent of a Golf Route the KZN South Coast has 11 courses to choose from, a golfers delight!
Umkomaas Golf Club
Scottburgh Golf Club
Selborne Park Golf Estate, Pennington
Umdoni Park Golf Club, Pennington
Port Shepstone Country Club
Harding Golf Club
Margate Country Club
Southbroom Golf Club, Southbroom
San Lameer Country Club, Southbroom
Wild Coast Sun Golf Club, Port Edward
Port Edward Country Club
Banana Express Steam Train
Running between Port Shepstone and Paddock and back, this 39km (24 mile) narrow gauge seam train climbs and winds on inland through hills and valleys, sugar cane fields and banana plantations, twisting and turning almost back on itself, it travels this route on a Wednesday and Saturday. There is also a shorter circuit to Izotsha going on a Thursday and Sunday.
Animal and Bird Parks
Pistols Saloon and Wild West Museum between Ramsgate and Southbroom, has an animal park. Uvongo Bird Park located between Uvongo and Manaba. Croc World in Scottburgh and also Riverbend Crocodile Farm and Art Gallery in Southbroom.
Craft Markets
Visitors can happily browse and find a wide variety of great crafts from traditional artists in the following markets:
Aliwal Craft Market, Scottburgh
Rotary Flea Market, Uvongo
humba Crafts, Ramsgate
Mzamba Village Market, Port Edward
Towns & Villages
Umkomaas Site of the world renowned Aliwal Shoal, divers from around the world come here to see Ragged Tooth Sharks, Hammerhead, Zambezi and a variety of other sharks, even the Great White! The Mkomazi River meets the sea here and the treacherous currents and sand bar have created havoc for boats and shipping for hundreds of years, as the shipwrecks indicate. Surfers enjoy this area too. This town is now a lively holiday destination with great sea views and a challenging golf course.
Scottburgh
This is a popular resort town (also with a past rich in boat wrecks hence the Green Point Lighthouse which is a National monument) now thriving and ever popular for its white sands, rolling hills and indigenous forests. There are great swimming beaches with terraced lawns and tidal pools as well as kids fun attractions, also good for surfing, body boarding, angling and snorkelling, and a super ocean side golf course. Slightly inland is traditional Zulu territory and historic Execution Rock for awesome views and immersion in the Zulu culture. For exploring the ancient San culture, the original inhabitants of this the South Coast, a visit to the town of Highflats as a base for exploration will reveal caves, rock paintings and ceremonial sites which characterise this area.
Pennington
There are many great beaches in this district including, Ocean View, Kelso, Bazely, Ifafa, Elysium, visitors will also find one of the Top 12 Golf courses here at Selborne Park (18-holes) and Country Club, the Ifafa Lagoon, Nkomba Bird Sanctuary, the Mkamati and Nkumbane Dams are great places to get away from the crowds and commune with nature. Fishing is also very popular as is snorkelling and horse riding. There are many awesome surf spots on the way to Hibberdene.
Hibberdene
Home to a profusion of Hibiscus blossoms, and affordable resort holidays, there is good reef diving too in unspoilt areas searching for some rare species of fish and fun at the lagoon for young and old alike, with entertainment like mini golf, paddling boats and super tubes. There are various beach resorts moving down the coast on the way to Port Shepstone.
Port Shepstone
The harbour at this town survived pretty well through the years considering the history of the treacherous coastline; however the arrival of the railway in 1901 changed everything. This town is now a major centre and holiday destination on the South Coast, with a mostly level golf course along the river. The local lighthouse is a national monument. The Mzimkulu River, the largest of the South Coast Rivers, meets the sea here, perfect for boating, canoeing and other activities along is banks.
Harding
Moving inland from Port Shepstone along the line of the Banana Express visitors will come to Harding. Situated in an area of great natural beauty, the Ngele Mountain Range and the Weza-Ngele State Forest Nature Reserve is an environmental treasure. There are excellent trails for hiking, horse riding and mountain biking; visitors can see awesome trees and beautiful birds. Fly-fishing is very popular at the well-stocked dams. On the way back to the coast is the spectacular Oribi Gorge hiking and adventure heaven.
Shelly Beach
So called because of the many beautiful shells that wash up on the beach, this little resort town is growing fast. Great swimming and watersports can be found, with tropical fish, sharks, corals and diving into underwater caves at Protea Banks a prime deep diving site for the uber-experienced only. Ski-boating and fishing are also a big attraction at Shelly Beach, shopping and entertainment are also available.
St Michaels-on-Sea
THE surfing spot, with regular competitions held in the fantastic swells. The main beach is very popular for swimming and watersports, also superb tidal pools here and some fishing. There is a great 9-hole golf course.
Uvongo Popular because of the 23 metre waterfall and lagoon at the main beach, Uvongo also has lovely scenery and a nature reserve. There is a footpath and paddling pool along the river, great for picnics. The Uvongo Bird Park offers walk through aviaries, Play Park and a tea-garden.
Margate
Always popular and now with its own Mardi Gras and confirmed night life, including raves and live gigs on the beach, Margate also has excellent beaches (blue flag), shopping, golfing (18-holes) and awesome diving. This has become a holiday destination of note with a great coastline and weather, hence the abundance of watersports.
Ramsgate
A quiet town (that was once called Blue Lagoon) next to a river mouth with good fishing and mussel stocks - super beaches and a high concentration of bird species can be found here. Nearby is the Oribi Gorge Nature Reserve. There is a casino and crocodile farm here too, cultural visits to a local Zulu township are also available.
Southbroom
An up-market resort set in a lush tropical paradise which is its defining feature, with a spectacular Club and 18-hole golf course also fantastic views of the sea and scenery. Holidaymakers love the lagoon and the pristine beaches. The Frederika Nature Reserve is well worth visiting because of its pristine dune forests and also indigenous forest. There is also a croc farm at Marina Beach.
San Lameer
A self-contained resort with luxury villas, a hotel and a championship 18-hole golf course, San Lameer has great sport activities and pools, a lagoon, blue flag beach and facilities in its own nature reserve. Just further south from here is Trafalgar and its great Marine Reserve for snorkelling and sail boarding.
Palm Beach
A quiet little hamlet with super beach, tidal pool and estuary, bordering the Mpenjati Nature Reserve and its prolific birdlife, Palm Beach is also close to the Umtamvuna Nature Reserve. The Wild Coast is just a little further south.
Port Edward
Between San Lameer and here there are a number of quiet seaside villages all with super beaches and fishing, namely Munster, Portobello, Kidds Beach and Glenmore. The Umtamvuna River at Port Edward is one of the few that can host jet skiing and water skiing activities. Beaching and fishing are popular in Port Edward. There is a record length Super-tube on the beach! The annual Sardine Run in June or July is a big attraction here for humans, birds and predators from the deep. Golfers can choose from the local 9-hole course or the 18-hole course at the Wild Coast Sun, a resort and Casino just across the river. Hiking and nature activities abound in the Umtamvuna Gorge and Reserve.
See South Coast accommodation options located on the KwaZulu-Natal South Coast of South Africa. Your guide on where to stay KZN south coast. Find the best south coast accommodation specials....
more