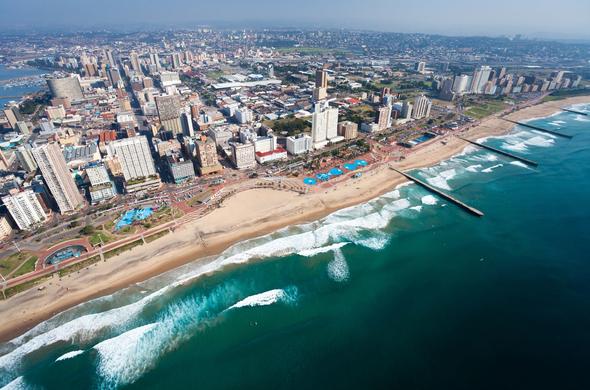 Known as South Africa's playground, Durban the largest city in Kwa-Zulu Natal lives up to its name. The city's residents are amongst the friendliness in the country and if you are fortunate enough to find yourself in this vibrant South African city, you will experience the relaxed atmosphere here firsthand.
Durban metro is where the gallant Zulu warrior King Shaka ruled over this kingdom for many years. The city initially called Terra Do Natal by the Portuguese seafarer Vasco Da Gama got its official name from the Cape governor Sir Benjamin D'Urban.
Still, the mighty Zulu King Shaka reigned as the regions ruler for years to come. After battles, negotiations and victories Durban finally boomed into the most important seaport of the British Empire and became the largest sugar terminal in the world.
Today, this busiest port of Africa is haven for investors and holiday makers alike. Rich in cultural heritage the city is full of song and dance. From expressive Zulu movements to more refined and practiced traditional Indian dance.
Spectacular events held monthly around the city, tourist and residents often indulge in entertainment. Several venues around the city boast ambiance and character. Lively entertainment centres, casinos and great shopping malls in Durban are a culture on its own.
The Gateway Shopping Mall in Umhlanga is supposedly the largest in the southern hemisphere. Its takes a long and tiring time to discover all that this mall has to offer, but thankfully for pit stops like science museums, the IMAX theatre which shows some great documentaries, expensive coffee shops, the Barnyard Dinner Theatre, largest rock climbing in the world and adventurous outdoor sports, a trip to Gateway Shopping Theatre in Durban is not an average experience.
Durban's warm sub-tropical climate all year round allows for avid water sports and major competitions and beach activities. Young and old getting a tan, reading on the warm sands, enjoying beach volleyball, and taking a break from their work day.
This is the South African city with a beach culture. And the beaches in Durban are awesome. From almost any suburb in Durban, South Africa you are able to get a view of the Indian Ocean. The sea plays a vital role here - a massive commercial harbour and two yacht clubs add to the commercial, industrial and social highlights of the seafront.
The city of Durban and its bewitching seaside possesses a special charm. And this is due to their vibrancy and unity. Durban is associated with hospitality and diversity, with Black Africans accounting for 68.30 percent of the population, followed by Asians or Indians at 19.90, Whites at 8.98 percent and Coloureds at 2.89 percent.
Many different South African, African, European and Asian languages are spoken amongst the people of Durban, South Africa. Clearly a land rich in variety.
With many different people and cultures come great foods. Traditional Zulu meals like "putu", samp and the like are mouth-watering and are hard to beat. And if you can endure all things hot and spicy Durban has the best Indian meals outside of India. Rich in spice and savoury ingredients you will no doubt experience curries the old fashioned way, some mercilessly chilli, rich in colour and delicious.
Good restaurants in Durban are splayed all over the city. You will find whatever tantalizes your taste buds. Traditional African meals, Indian cuisine, English buffets and so on. Restaurants range from affordable cafes on the beach front, luxury five star restaurants at the hotels in Durban and more tucked away places for intimate romantic dining surrounded by nature.
After a productive day of exploring this fun city, your accommodation is sure to reward you with style and comfort. Accommodation in Durban ranges from intimate Durban guest houses to luxury five star hotels. Hotels in Durban are modern and spacious and relatively affordable.
While guest houses are your home away from home. Whatever your choice of accommodation in Durban, it will exceed your expectations. With friendly people, great beaches and tropical weather, Durban is your ideal holiday destination.