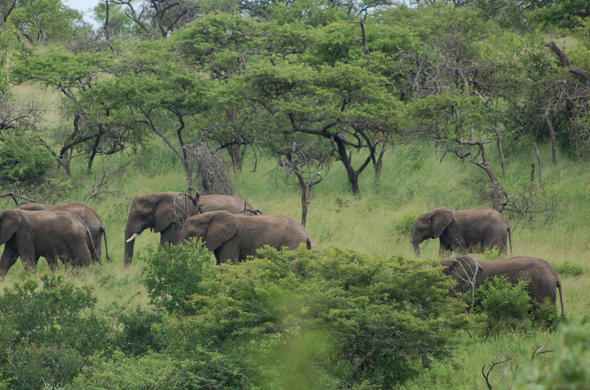 Game viewing is available from the instance you enter the reserve, and often you will see Elephant, Rhino (Black and White) and Buffalo within minutes.
Read more about Hluhluwe Game Reserve and accommodation options for this KwaZulu-Natal Game Reserve.
Other animals to be seen at Hluhluwe include Giraffe, Zebra, Impala, Hippo, Crocodile and predators such as Lion, Leopard and Jackal.
Picnic Sites
A number of view and picnic sites are available for the visitors to leave their cars and watch the game. However, besides those places indicated, visitors are not allowed to alight from their vehicles, as predators such as Lions can place their lives in danger.
Conference Centre
Amenities available at the reserve include the Mpunyane Restaurant, at Hilltop camp. The comfortable Uzavolo Bar provides a relaxed atmosphere in which to discuss the day's viewing and bird watching. A conference centre is also available for up to 40 delegates. Day and night drives in open Land Rovers can be booked at the reception office in Hilltop. Guided walks, trails and auto trails are also available.
Hluhluwe and Umfolozi
The Game reserve of Hluhluwe was proclaimed in 1895. It was until recently separated from Umfolozi, however the separating corridor has now been proclaimed and the two reserves are joined. The total area is 96000 ha.
Location
The Hluhluwe Game reserve is situated in the Northern Zululand, 280km from Durban. Using the N2 national road take the Hluhluwe offramp and turn to the left at the top (turning right will take you into the village of Hluhluwe).