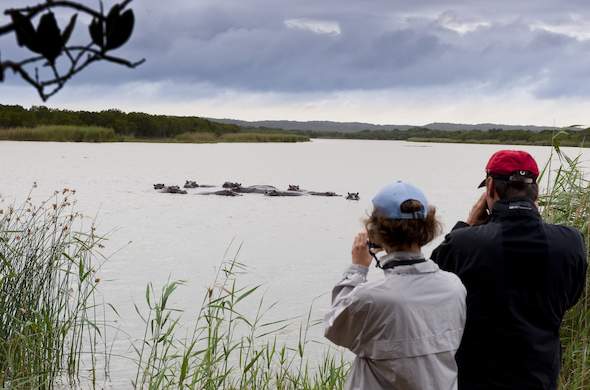 Hippo spotting at Makakatana Bay Lodge in St. Lucia Wetlands Park.
The great-protected area of St. Lucia Wetlands extends from the Mapelane Nature Reserve in the south through St. Lucia, Cape Vidal, False Bay Park, and Sodwana Bay National Park in the north. It also includes the reserve areas of Fannie's Island, Charters Creek and Mkuzi Game Reserve.
Attractions
St. Lucia has a lagoon separated from the sea by a ridge of dunes, where seawater and fresh water mix. St. Lucia Wetlands has an abundance of nutrition for countless species of fish and an equally impressive variety of birds. Another attraction is the chance to see numerous Hippos and Crocodiles.With about 1,500 specimens, the Crocodile population in the St. Lucia Lake is the biggest of all the animal parks in South Africa. ST. Lucia Wetlands offers camping, hiking, Turtle-spotting, Bird-watching, ST. Lucia Dunes, Zulu Traditional arts and Crafts and Whale and Dolphin watching.
Playground for Whales and Dolphins
The Greater St Lucia Wetland park is a paradise for nature-lover because it encompasses 5 distinctly different ecological zones. The Marine Eco-system is divided into the warm sea, coral reefs and long unspoilt sandy beaches. St Lucia's warm Mozambique current creates a wonderland of reefs teeming with tropical fish and a playground for Whales and Dolphins.
Camping
St. Lucia Park offers a couple of camping sites and holiday facilities to enjoy the great variety of recreational activities of hiking, swimming, fishing and boating. St Lucia Wetlands Park camps are placed in tranquil surroundings, with many outdoor activities on offer.
Santa Lucia
Get on the Santa Lucia, a Mississippi style boat that provides scenic boat tours on the lake for up to 80 people. It has a viewing deck and a bar. There are regular departure times, and each tour lasts for one and a half hours. Crocodiles, Hippos and water-birds will be plentiful. Refreshments can be bought on the boat.
Feeding of the Crocodiles
The Crocodile Centre: This is the interpretation centre for the St Lucia region, and stresses the importance of Crocodiles in the system. Apart from general displays and information, the Beasties themselves are on show in open-air pens. Feeding of the Crocodiles takes place every Saturday afternoon, at 15pm. This is accompanied by a talk on the activities of the centre. A gift shop provides souvenirs.