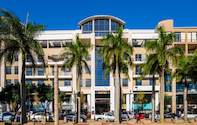 This Durban Hotel in Umhlanga is very central to the various attractions and beaches. Royal Palm Hotel is the ideal choice for both business and leisure travellers.
Only 20 minutes from King Shaka International Airport
Enjoy walks along the beautiful Durban beaches
Explore the various attractions of this city
State-of-the-art conference venues
The Royal Palm is a luxury apartment hotel in Umhlanga, Durban. It is only 20 minutes from Durban's King Shaka International Airport, and opposite Gateway, the largest shopping centre complex in the Southern Hemisphere. Royal Palm is in the heart of the Umhlanga New Town Centre where people can live, work and play all in one area, perfect for business and leisure travellers who are looking for a modern and stylish home away from home experience.
Umhlanga is one of the most popular beach resort destinations on the east coast of South Africa. The bathing is safe and the warm Indian Ocean waters wash one of the most beautiful coastlines in the world.
Situated just north of Durban with its golden sandy beaches that stretch northwards for more than 200 kilometres, all the way to the spectacular Greater St Lucia Wetland Park. Inland endless fields of sugarcane give way to the tumbling area of a Thousand Hills.