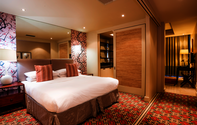 Royal Palm is a luxury Umhlanga hotel that features spacious penthouse, classy rooms and a variety of amenities. It's the perfect place for business or relaxation.
The Royal Palm is 4-star accommodation that includes 94 luxury apartments, which include 14 penthouses, 60 luxurious Executive Suites, 10 spacious Executive Deluxe rooms and 10 two-bedroom Executive Suites. All rooms are en-suite and have lounges and balconies.
Penthouse suites at the Residences of the Royal Palm are designed to offer you a breathtaking view of the stylish Palm Boulevard while providing you with all the modern amenities and luxury that you deserve.
All the decor is lively with rich reds and lush fabrics. An in-house restaurant, Dish, is top of the range but if you want more variety the Gateway Theatre of Shopping offers you a variety of cuisine, be it sushi, Chinese noodles, Indian curries, Thai stir fry or Italian pasta.
The Royal Palm is secured on all sides of the development with controlled access, monitored by 24-hour security. The entire development is covered by an extensive CCTV system. All apartments have automatic smoke detection units, connected to a central fire alarm system.
Room Facilities
Smart TV
Laundry service
Hairdryer
Room safes
Air-conditioning
Tea and coffee making facilities
Wifi
Mini bar
Wake Up Call Service