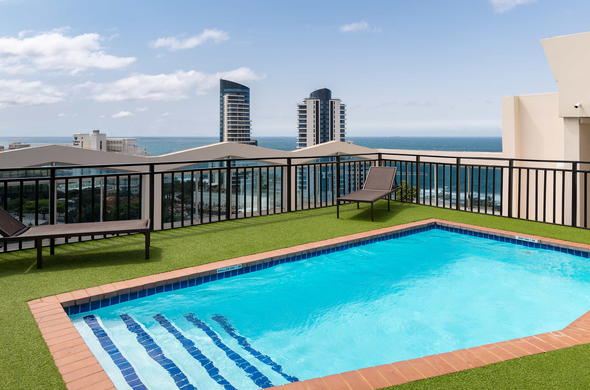 Umhlanga Hotel is wonderfully located near the beach and the attractions in Umhlanga Rocks.
The Umhlanga Hotel is centrally situated in the heart of Umhlanga Rocks, and is approximately 2 minutes walk to the main protected beach. The hotel is located in Kwazulu Natal, this province has everything a visitor would look for, Big Five game reserves, spectacular mountain ranges, tropical climate, fantastic coastline, wetland ecosystem and it's also the home of the proud Zulu nation.
The Natal coast is very tropical with warm weather all year round, due to the warm Indian Ocean. The Kwazulu Natal coastline offers some of the best surfing anywhere in the world.
It is also within walking distance of many pubs, restaurants, shopping centres and the vibrant nightlife. Upmarket towns of La Lucia, Umhloti and Mount Edgecombe are only minutes away.
Directions from King Shaka Airport:
Head east on Umdloti St D144 (1.7km), take the ramp onto N2 towards Durban (11.6km), take exit 182 for M41 towards Mount Edgecombe (750m), take the exit towards Umhlanga Rocks Drive/M12 (700m) and turn left at Umhlanga Rocks Drive (go through 1 traffic circle) - 450m).
At the traffic circle, take the 3rd exit and stay on Umhlanga Rocks Drive/M12 (1.3km), continue onto McCausland Crescent (110m), at the 3rd set of robots, turn right into the Ridge road (84m), take the first left (8m).Protea Hotel Umhlanga will be on the left, opposite the Umhlanga Shopping Centre.
GPS Coordinates
29.7261ºS
31.0840 ºE