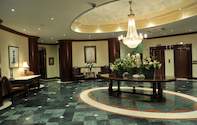 'The Grand Dame of Durban' since 1909, the Protea Hotel Edward Durban is renowned for personalised service and gracious hospitality.
Oustanding personal service
Five minutes from the city centre
Ideal base for exploring attractions
The Edward Hotel has Victorian elegance
All within an ambience of stylish elegance and sophistication, the Edward Hotel boasts state-of-the-art technology for its conference facilities, internationally recognised restaurants and a beauty salon where guests can relax and be pampered while enjoying wonderful accommodation.
Situated on the famous Durban Golden Mile, within 5 minutes of the city centre, this Durban hotel heralds a time of Victorian elegance. This world-famous hotel has played host to Princes and Presidents, Field Marshals, millionaires and movie stars since 1911.
Edward Hotel is a well-placed base from which to explore the Zululand environment, the famous Indian Market and a variety of nightspots and entertainment. This Durban hotel is minutes away from Durban's Central Business District and the International Convention Centre.