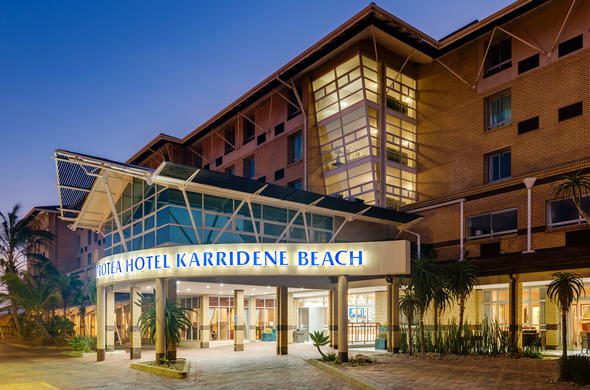 The Protea Hotel Karridene Beach is a moderate first class hotel offering luxurious bedrooms and first class service.
Situated between the lagoon and beach
Luxurious, spacious accommodation
Surrounded by natural attractions
Sporting facilities available
The Protea Hotel Karridene Beach is situated between the lagoon and the beach at Illovo, it also boasts an award winning caravan park. This hotel in Durban offers access to the longest untouched stretch of beach in KwaZulu-Natal. The surrounding areas have an abundance of natural attractions that range from Crocodile farms to game viewing.
The famous Aliwal shoal offers some of the world's best Shark diving and also boasts some of the best game fish species in the Indian Ocean. Even if you are not into diving, the facility does offer non-diving trips. Deep sea fishing, as well as surf fishing in the area, is of the highest quality and good catches are assured on the local charter boats.
The Pavillion shopping centre is also situated within half an hour's drive from the hotel and, being the biggest shopping centre in KwaZulu Natal, offers some of the best shopping available. After a hectic day of shopping here, stop in at The Firkin Pub for a delicious and refreshing drink or bite to eat before making your way back to your hotel in Durban.