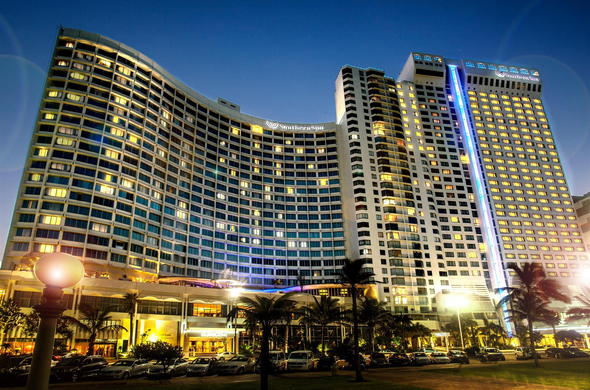 Southern Sun Elangeni & Maharani boasts a comprehensive conference centre consisting of 14 venues- a favourite for national and international events.
Conferencing - efficient, high-tech equipment
Breathtaking views of the warm Indian Ocean
3 swimming pools (including a heated pool) and a spa
Air-conditioned rooms equipped with modern amenities
Southern Sun Elangeni & Maharani has breathtaking views of Durban's Golden Mile and the warm Indian Ocean. Business and leisure travellers will enjoy fine service and hospitality at one of Durban's premier hotels. The spacious lobby is the focal point, where friendly and efficient staff provide a warm welcome.
Southern Sun Elangeni & Maharani has 3 sparkling swimming pools, a spa and a wide range of sporting activities can be arranged. Flea markets, amusement parks and fun activities are all within walking distance.
The guest room amenities include a news cable channel, AM/FM radio, coffee maker, trouser press, refrigerator, remote control colour TV, mini bar, in room movies, hairdryer, separate hanging closet and a dataport on phone.