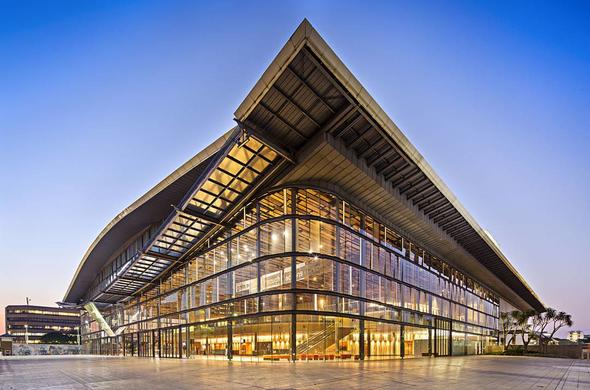 The International Convention Centre (ICC) is the focal point of Durban's business district. It is centrally located and just a quarter of an hour from Durban International Airport.
The ICC is situated only minutes from excellent hotels and beaches.
3 Interlinking halls
ICC Durban is centred around three interlinking halls, having a combined capacity of over 7000 square metres. It can serve as exhibition venue, a convention theatre, a ballroom, a sports arena or concert chamber, or it can be divided up into eleven varied size venues. The operable walls allows easy changing of room configurations.
Outdoor venues
The Plenary Hall can accommodate 1644 people, subdivided into two separate 840 seat auditoria. The smaller venues and meeting rooms, suitable for groups of 5 to 400, are conveniently situated on the ground and first floor levels. These are ideal for presentations, functions and cocktail parties. Three outdoor courtyard venues are perfect for catered functions and informal meetings in sheltered landscaped surroundings.
Business centre
State of the art equipment, skilled technical support and attentive service are a feature of each configuration. A business centre with telephone, fax, photocopy, secretarial, postal and counter services is available and the ICC has international standard facilities for the physically challenged.