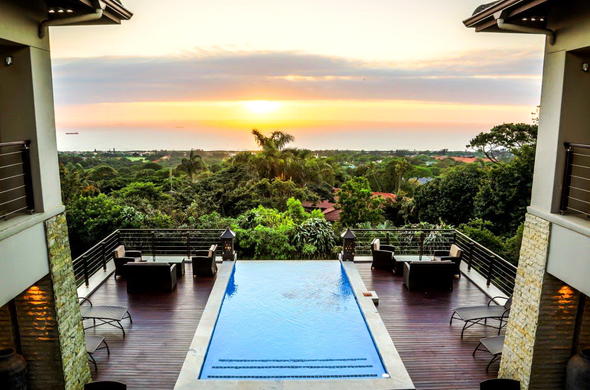 Endless Horizons Boutique Hotel is conveniently situated in Umhlanga Rocks Drive in Durban, KwaZulu-Natal.
Endless Horizons Boutique Hotel is located in the scenic area of Umhlanga Rocks Drive in Durban North. This KwaZulu-Natal hotel is easily accessible from the airport and is situated close to major business hubs and tourist attractions.
Directions to Endless Horizons Boutique Hotel
From King Shaka International Airport
From the airport take the N2 South towards Durban. After about 17.3 km take exit 182 – this off ramp reads M41 Umhlanga. Turn left onto M41 (E) Umhlanga 700m Drive up the hill and under the steel Millennium Bridge and take the next off ramp to your left which is sign posted M12 Umhlanga Rocks Drive. At the traffic lights at the top of the off ramp turn right into Umhlanga Rocks Drive. The sea will now be on your left. Follow Umhlanga Rocks Drive and continue straight through the turn circles in the corporate business park. Continue on Umhlanga Rocks Drive for +- 5.7kms through a residential area, a green belt and through 3 sets of traffic lights. Endless Horizons will be the 2nd gate on your left after you pass through the Longwoods Drive traffic light intersection
From the Durban International Convention Centre
From the Durban ICC, get on the M4 North Coast Road, Stalwart Simelane Street (previously Stanger Street). Follow the M4 North Coast road over the Umgeni River and past the Riverside off ramp.
Turn off at exit 4 which reads Broadway Durban North and follow Broadway up the hill. Carry straight with Broadway. At the intersection, Nando's will be on your left and a Total garage on your right. Turn right into Kensington Drive. Continue with Kensington Drive through the Beachway intersection past the Northwood Boys High School on your right.
Turn left into Margret Maytom. Drive to the top of Margret Maytom and turn right into Umhlanga Rocks Drive. Endless Horizons Boutique Hotel will be the third house on your right. Two electronic gates will have Endless Horizons written on them.
GPS Coordinates
29º46'04"S

31º02'25"E